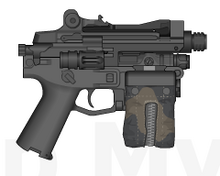 Description
Edit
Sinclair Defender pistol is a classic 'old-school' .45 caliber sidearm with advanced coolant system, state-of-the art recoil suppression and extensive customization abilities, compatible with any kinds of extensions, add-ons and modifications. The one Sean finds and keeps is a special naval model specifically designed to work in unpleasant environments, flooded areas and underwater.
Slot: 2
Type: Hitscan
Ammo: Bullets
Damage: 15xd3 (15 - 45) HP per shot
Alternate Attack: Quick Kick
Ammunition
Edit
Ad blocker interference detected!
Wikia is a free-to-use site that makes money from advertising. We have a modified experience for viewers using ad blockers

Wikia is not accessible if you've made further modifications. Remove the custom ad blocker rule(s) and the page will load as expected.