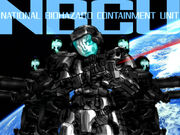 Overview
Edit
NBCU (National Biohazard Containment Unit) is a private military organization; essentially, a special forces team supervised by Tikhovliz Industries. Their primary mission is response to ecology-related terroristic acts, as well as providing the defensive assistance at the ecologically challenged crisis points (guarding the disposal sites or outbreak quarantine zones).
Notable Personnel
Edit
Ad blocker interference detected!
Wikia is a free-to-use site that makes money from advertising. We have a modified experience for viewers using ad blockers

Wikia is not accessible if you've made further modifications. Remove the custom ad blocker rule(s) and the page will load as expected.