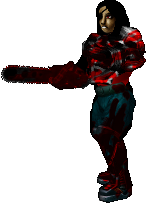 Characteristics
Edit
Health: Infinite (must solve a puzzle to defeat)
Speed: 8
Attack Type: Melee
Melee Attack Strength: 500 HP
Item Drop: none
First Encounter: MAP13: Lord Of The Flies
Physical Description
Edit
Long dark hair, heavily tanned skin, brown eyes. Very muscular, even without cybernetic augmentations. Left leg is a prosthetic. Has a Jolly Roger tattoo on his left shoulder.
Family/Friends
Edit
Background Story
Edit
Pirate of the XXI century, the Newcastle Lumberjack. Real name: Mario De Laurentiis. Born in Sicily, but later moved to the UK with his family.
Occupation
Edit
The Dark Layers terrorist group leader. Essentially, his mission is to utilize the chaos on Oberon-1 to make the infection spread further.
(UNDER CONSTRUCTION)
Weaknesses/Fears/etc.
Edit
(UNDER CONSTRUCTION)
His real last name is a reference to Dino De Laurentiis.
Ad blocker interference detected!
Wikia is a free-to-use site that makes money from advertising. We have a modified experience for viewers using ad blockers

Wikia is not accessible if you've made further modifications. Remove the custom ad blocker rule(s) and the page will load as expected.